MahaDBT Scholarship 2023-24: Welcome to the MahaDBT portal it is the Direct Benefit Transfer portal of the government of Maharashtra. MahaDBT portal was previously known as the Aaple Sarkar portal. This portal allows students from Maharashtra state to apply for different scholarship schemes online. Process of fresh student registration for academic year 2023-2024 is started from 11th October 2023 and continued till the declaration of deadline.
Recently Maharashtra Government launched new portal for mahadbt scholarship named mahadbt.maharashtra.gov.in. Now students will not face any issues while filling their scholarship forms.
Table of Contents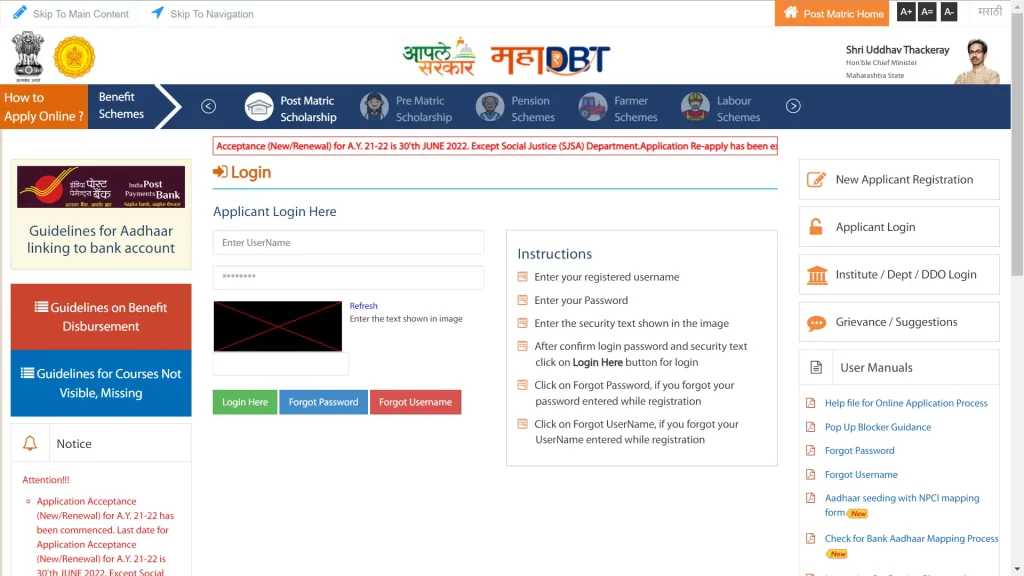 To avail of benefits as per caste and category from the MahaDBT portal, every student must register on this portal and get a login ID and password.
Important : MahaDBT New Applicant Registration Process
What is MahaDBT?
Maha DBT – Online direct benefit transfer scheme to distribute scholarships for students studying in Maharashtra state by the government of Maharashtra. MahaDBT portal is also used for direct benefit transfer in MahadbtFarmer and Pension schemes.
| | |
| --- | --- |
| Portal | MahaDBT | Aaple Sarkar |
| Official Website | https://mahadbt.maharashtra.gov.in/ |
| Department | Maharashtra Government Departments |
| Scholarship provided | Post-Matric Scholarships |
| Application Medium | Online |
| Beneficiaries | Reserved/General category students |
| Total Scholarships offered | 45 |
| Application starts from | 11 October, 2023 |
| Application ends on | TBD |
This portal is designed in such a way that every student gets benefited by sitting at home. For every academic year, students need to re-register so that no invalid transactions will be done.
Note: All scholarship schemes mentioned on the Maha DBT portal are only for post-metric students.
MahaDBT Scholarship Schemes List
Important : How to check all eligible schemes
MahaDBT divided student scholarships into 14 department-wise schemes. Later these 14 departments were divided into category wise scholarships and schemes.
OBC, SEBC, VJNT & SBC Welfare Department
1.Post Matric Scholarship to VJNT Students
2.Tuition Fees and Examination Fees to VJNT Students
3.Payment of Maintenance Allowance to VJNT and SBC Students Studying in Professional Courses and Living in Hostel Attached to Professional Colleges
4.Rajarshi Chhatrapati Shahu Maharaj Merit Scholarship for students studying in 11th & 12th standard of VJNT & SBC category
5.Post Matric Scholarship to OBC and SBC Students
6.Tuition Fees and Examination Fees to OBC and SBC Students
Social Justice and Special Assistance Department
1.Government of India Post-Matric Scholarship
2.Post-Matric Tuition Fee and Examination Fee (Freeship)
3.Maintenance Allowance for student Studying in professional courses
4.Rajarshri Chhatrapati Shahu Maharaj Merit Scholarship
5.Post-Matric Scholarship for persons with disability
Tribal Development Department
1.Post Matric Scholarship Scheme (Government Of India)
2.Tuition Fee & Exam Fee for Tribal Students ( Freeship)
3.Vocational Education Fee Reimbursement
4.Vocational Education Maintenance Allowance
Directorate of Medical Education and Research
1.Rajarshri Chhatrapati Shahu Maharaj Fee Reimbursement Scheme
2.Dr Panjabrao Deshmukh Hostel Maintenance Allowance
Other Departments
Minority Development Department
Skill Development, Employement And Entrepreneurship Department
Mahatma Phule Krishi Vidyapeeth, Rahuri
Directorate of Art
MAFSU Nagpur
Department Of Agriculture
Department of Disability
Features of Maha DBT portal
Some of the features of MAHADBT portal are mentioned below :
Mahadbt portal is the great move by government of Maharashtra for providing scholarships to students. DBT is far better than traditional methods of scholarship disbursement.
Aaple Sarkar mahadbt portal is direct benefit transfer portal for students of Maharashtra. Maha Gov distribute all the benefits to student via DBT portal only.
Number of benefits depends on the applicant educational department. The amount of benefit depends upon caste, category, and yearly income.
Mahadbt portal is the only portal for distributing scholarships among the students in Maharashtra.
All the schemes are indexed as per cast and category so that it is easier to find them and apply asap.
Mahadbtmahait portal helps students to get benefit into their bank account very fast.
No need to visit nearest Setu Kendra or Tahsil Office while registering for post metric scholarships such as EBC, OBC, SBC, VJNT and Dr. Punjabrao Deshmukh Vastigruh Nirvah Bhatta Yojna.
Documents required for MahaDBT Scholarship
It is impossible to redeem a scholarship without uploading the required documents. All the documents required are listed below:
Aadhar Card
School/College Leaving Certificate
Cap allotment letter
College fee receipt
Marksheet of SSC (10th std)
Marksheet of HSC (12th)
Previous Year Marksheet
All semester Marksheets
Cast Certificate
Income Certificate of current financial year (from Tehsildar)
Bank Passbook
Self Declaration
Domicile Certificate
Rashan Card
Hostel Certificate (If Required)
Gap Certificate (If Required)
Handicap Certificate (If Required)
Note : Some extra documents may be required as per your caste or scholarship type.
Maha DBT Registration Process
To apply for any new scholarship scheme from Apale sarkar MahaDBT, it is necessary to create a new account on Mahadbtmahait portal, that is to do MahaDBT Registration.
Mahadbt registration is nothing but creating new scholarship profile account. You just need to Enter you basic details and create one username and password.
Visit this page for complete registration process :
Important : MahaDBT New Applicant Registration Process
Mahadbt Login
For Mahadbt login First of all you need to register on mahadbt portal before trying to apply for any scholarships listed on mahadbtmahait.gov.in scholarship portal.
After completing registration you are now able to login to mahadbt. For logging in to mahadbt you must have your registered username and password with you.
Click on Login button and enter your username and password and then click on submit button that's it, now you will get the message that "You have successfully logged into mahadbt".
Nowadays many of the students facing issues related to mahadbt login page. Most of the students lost their login id and password and others having issue of mahadbt website not working. If you have lost your username and password then don't worry just follow the steps given below to recover username or password.
If you don't have a username or password with you or you have forgotten that then don't worry just follow next steps :
Case 1. Forgot Username:
If you have forgotten your username simply click forgot username button in red colour.
Then enter your full name as entered while registering.
In next field enter your registered mobile number and date of birth.
Click on Get Username button.
Now you will receive a new username on your registered Mobile number through SMS.
Case 2. Forgot Password:
If you have forgotten your password simply click forgot password button.
Then enter your registered username and click on get OTP.
Now you will recieve one OTP on registered Email or Mobile, enter OTP.
Create new password and click on set password option.
What Is Mahadbt Scholarship Registration last date?
As the Mahadbt portal is for helping students they do extend registration deadlines month by month. Mahadbt also wants to provide benefits to all eligible students that's why they extend deadlines. But as it works on an academic year-wise basis Mahadbt gives deadlines up to the current academic year only.
As it is government scheme you must follow deadlines to avoid any losses. We request you all to complete your registrations within last date of registration.
For academic year 2023-24 registration process has been started from 11 October, 2023 and probably the last date of registration will be 31st January 2024.
As the registration deadline is not yet officially announced by mahadbt you may wait for registration if any of your documents are not ready. But again we suggest you to visit our notice board located at top of right sidebar for date related updates.
Mahadbt Website Not Working?
Many of the students are trying to open MahaDBT official website but nowdays mahadbt website is not working properly. So if you are also facing same issues about mahadbtmahait.gov.in website then please read this complete guide so that you can easily access mahadbt official website.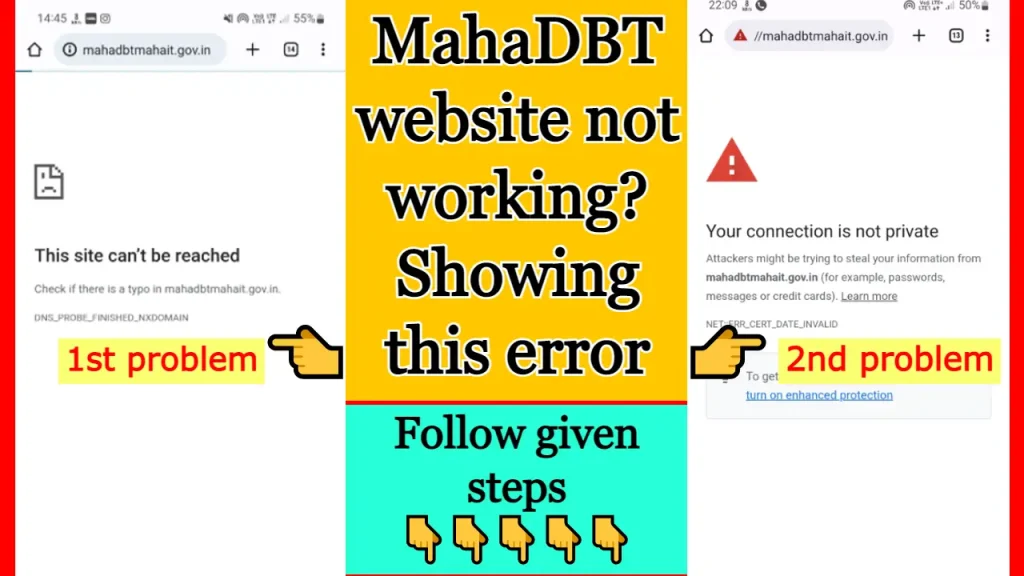 These problem (shown in above image) are mainly caused due to two reasons:
Invalid SSL Certificate (2nd Problem as per above image)
DNS Configuration issues (1st Problem as per above image)
To fix these problems we have given solution to one of these problems so please read the complete guide provided in this post, after that your problem will be 100% solved.
MahaDBT FAQ
What is Mahadbt Aaple Sarkar MahaDBTmahait.gov.in portal?
MahaDBT or Apale Sarkar Portal is the official website of the Government of Maharashtra where information regarding various schemes is provided for all the citizens of Maharashtra.
One of these schemes is Scholarship Scheme which is for post-metric students.
What is Declaration Form and how to download it?
A declaration form is a form of undertaking. It is also known as self declaration or Mahadbt Undertaking form. Main purpose of this form is to ensure that no more than 2 beneficiaries take benefit from same family. For download this form and knowing more about what is Declaration form please visit your college, they will provide you a form.
mahadbt last date 2022-23
The last date for MahaDBT registration is 30th September 2023.
mahadbt last date 2023-24
The last date for year 2023-24 for MahaDBT registration might be 31st January 2024.
mahadbt scholarship registration start date?
The registration process for academic 2023-24 has been started from 11th of October, 2023.