MahaDBT portal was launched by government of Maharashtra on 3rd August 2017. MahaDBT portal is known as MahaDBT, MahaDBTMahaIT, MahaDBT Aapale Sarkar, Aapale Sarkar portal etc.
After getting admission to post metric (i.e Under Graduate) students can apply for Mahadbt scholarship via mahadbtmahait portal. If any students fails to fill his or her online application for mahadbt he/she cant get any benefits from Government of Maharashtra.
Table of Contents
So in this post we will discuss how MahaDBT portal works and we will see how to apply for all the eligible schemes.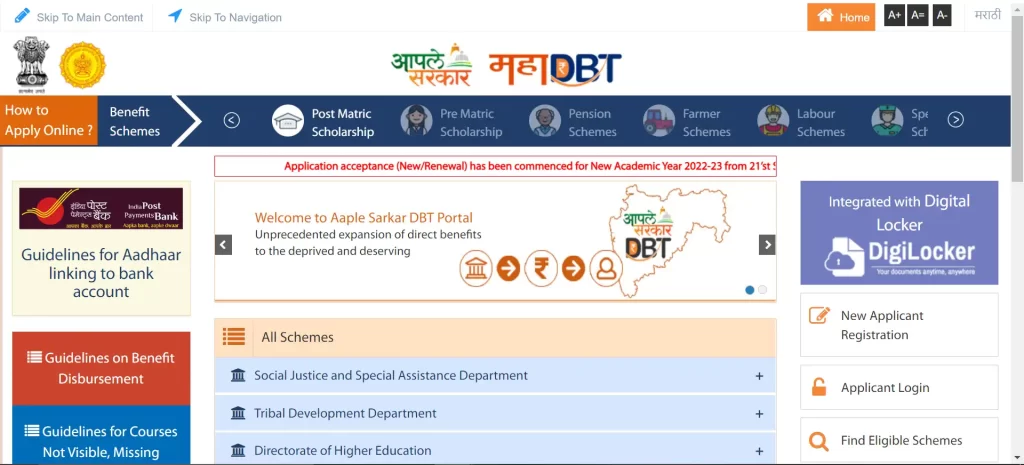 What are MahaDBT Schemes
Mahadbt is used for directly transferring benefits to student's account.
Now what is the meaning of the benefit? So the beneift is nothing but a scheme.
All the schemes have different benefits, these benefits may vary with the student's cast, category and income. As per mentioned on the mahadbt portal there are 14 types of the department under which scholarship is disbursed.
Important : MahaDBT New Applicant Registration Process
These 14 departments include Social Justice and Special Assistance Department, Tribal Development Department, Directorate of Higher Education, Directorate of Technical Education, School Education and Sports Department, OBC, SEBC, VJNT & SBC Welfare Department, Directorate of Medical Education and Research, Minority Development Department, Skill Development, Employement And Entrepreneurship Department, Mahatma Phule Krishi Vidyapeeth Rahuri, Directorate of Art, MAFSU Nagpur, Department Of Agriculture, Department of Disability.
In inspite of these 14 departments, there are various sub-departments to make scholarship disbursement easy.
How to find all eligible MahaDBT Schemes
To get complete benefits of scholarships students must have information about all the eligible schemes.
So to make students aware of all the applicable/eligible schemes there is one option on the mahadbt portal which help students to find the schemes according to eligibility. Follow the steps mentioned below to get to that option.
Step 1
Visit homepage of official mahadbtmahait portal. and locate to Post Metric Scholarship button located at top menu or in right sidebar.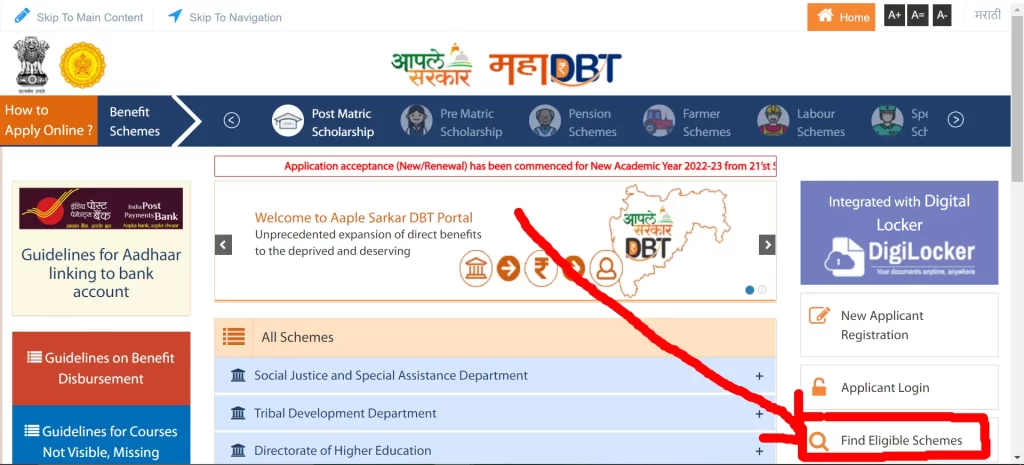 After clicking on Post metric tab you will get into this above shown page.
As per arrow shown in above image click on " Find Eligible Scheme " button located at right sidebar bottom.
Now you will get redirected to Scheme Finder page.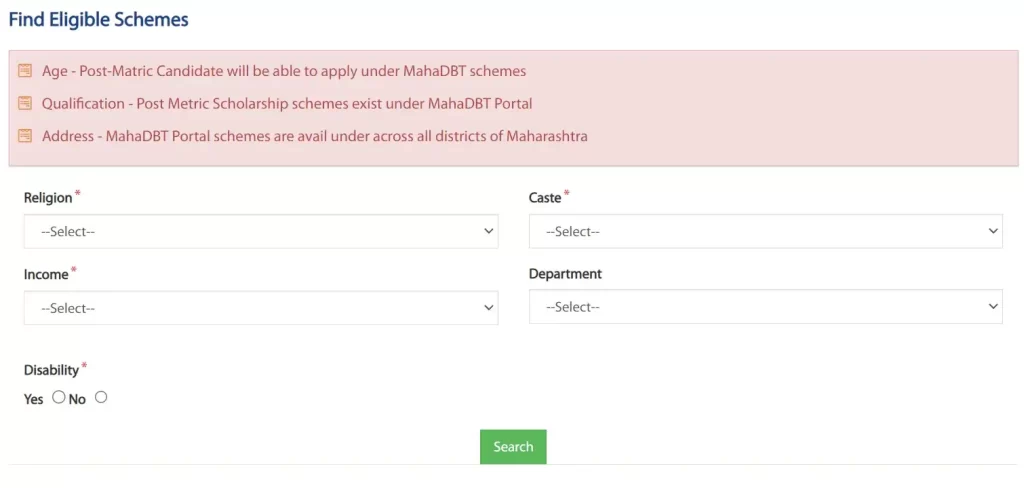 It is clearly mentioned in the above image that only post-metric students will get benefited from the MAHADBT portal. So make sure that you are the post metric student.
Step 2
In first block i.e. Religion you need to select your religion from dropdown.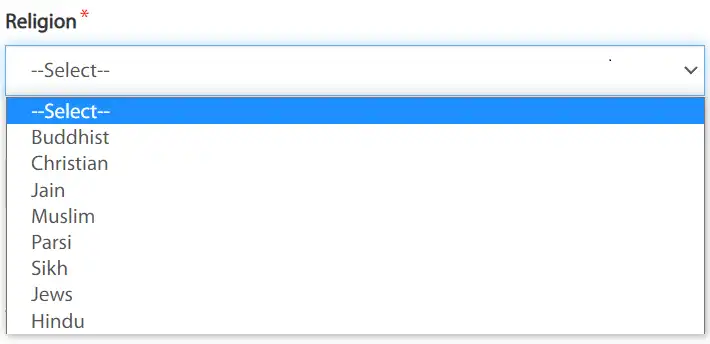 Step 3
In Cast section you have to select your cast from dropdown. Select your cast so that system will provide all the matching schemes as per your cast.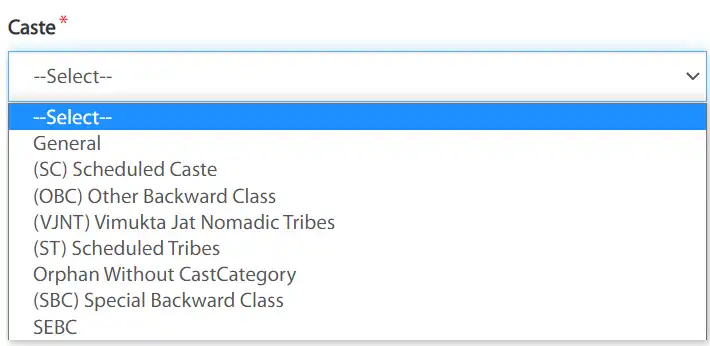 Step 4
Next is Income section, to get benefits without any problem please select your income range carefully. Income range varies from 1 Lakh to 10 Lakh.
Please refer your Income Certificate while filling information related to income. So that it becomes easy for you to get scholarship from MahaDBT.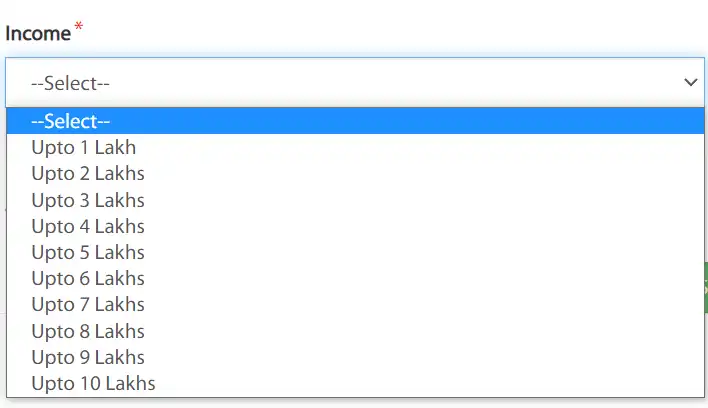 Step 5
Now select your Department from department names provided in dropdown. If you are confused with your department please contact your college, they will provide you correct information.
In case of engineering students department named "Directorate of Technical Education" is there. Likewise for agri students Department of Agriculture is there.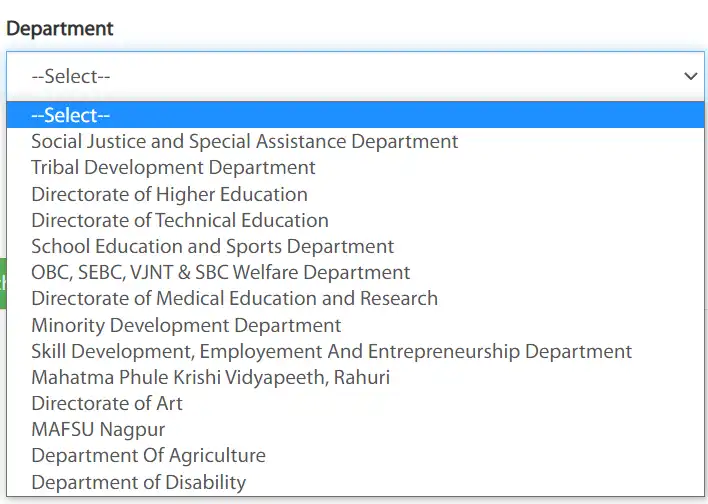 Step 6
If you have any disability you can select the option "Yes" otherwise you can select "No".
In case of any disability make sure that you are having disability certificate to avoid any losses.
That's it now all the eligible schemes as per your mentioned details are shown.
MahaDBT Schemes prerequisite
Age – Post-Matric Candidate will be able to apply under MahaDBT schemes
Qualification – Post Metric Scholarship schemes exist under MahaDBT Portal
Address – MahaDBT Portal schemes are avail under across all districts of Maharashtra